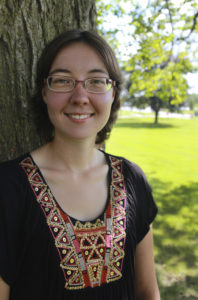 Hi everyone!
Here's a little information about me and my goals as a caller:
I started dancing as a teenager and was instantly hooked. I was lucky to learn in an incredibly friendly and encouraging dance community, and I soon started bringing groups of my friends. Throughout high school, we became enthusiastic dancers and started our own Contra Prom in our junior year, which has since become an annual event of the Syracuse Country Dancers. I started calling in 2006, and again, our local community of dancers and callers provided a wonderful learning environment.
I regularly call at our Syracuse dance, as well as dances and dance weekends across the country.
Depending on the event, my repertoire includes a wide variety of contra dances as well as squares and party dances. I enjoy working with everyone from first-time dancers to decades-long contra veterans. Above all, my goal as a caller is to make sure the dancers are having as much fun as I am! I love dancing, community, and music and I always try to communicate that enthusiasm in my calling.
When I'm not calling or dancing, I can usually be found in the garden or at work at Lucky Moon Farm CSA in Cazenovia, NY.
Calling Resume: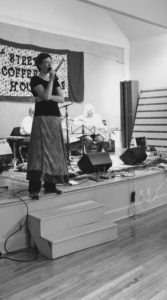 Fireant Frolic, TX
Moondance, SC
BACDS American Week, CA
OldSongs Festival, NY
Swing into Summer, Pinewoods, MA
Owen Sound Dance Weekend, ON
Wintergreen Dance Weekend, MT
Fleur de Lis Fling, KY
Pittsburgh Fall Dance Weekend, PA
Foggy Moon, CA
Balance the Bay, CA
Epicenter, CA
River Rendezvous, OH
Spring Frolic, AZ
Bugstomp, SC
Snowball, FL
Atlanta Fall Dance Weekend, GA
Charlottesville Fall Dance Weekend, VA
Feet Retreat, NC
Labor Day Dance Away, CA
Trillium Twirl, MI
Chicago Dance Weekend, IL
Shenandoah Shindig, VA
Contradancers Delight Holiday, WV
Harvest Moon Dance Weekend, CA
Roanoke Railroader Dance Weekend, VA
Pinewoods July 4th Weekend, MA
Dandelion Romp,
 OH
Dancing with the GODS, FL
Bayou Bedlam, TX
Hey Fever, ON
Echo Summit, CA
Ooh La La, QC
June Moon, WV
Youth Dance Weekend, VT
Almost Heaven, MD
Fiddling Frog, CA
LEAF Fest, NC
Contrastock 3, MD
Raindance, OR
Toronto Spring Thaw, ON
Adirondack Dance Weekend, NY
May Madness Dance Weekend, AZ
Fall Ball, FL
Rochester Thanksgiving Dance Weekend, NY
Dance Flurry, NY
Snow Ball, NH
Hands Four Spring Dance Weekend, KY
Bear Hug Dance Weekend, MT